Dear Upper School Families,

With two days of final assessments down, and three to go, your rockstar student is merely hours away from a hard-won, well-deserved break from (online) academics.

For six and a half months, your students did their level best in Penn Charter's program while enjoying the features of school that oftentimes bring them the greatest joy – athletics, the arts, the repartee with friends and faculty in the halls, the sandwiches from the dining hall, and more.

When we had to close our doors in March, your kid pivoted with aplomb, opening their laptop and engaging in school from quarantine.

And for one interminably long, and oddly short, Quarter 4, they engaged online like champs to continue learning, with the momentum they built up in Quarters 1-3, and to punctuate the year with grace.

I commend your scholar.

While I know that what happens in the classroom is ideally stimulating and mind-expanding for a teen, I know, too, that we are all social creatures, and adolescents crave no social group more than their peers. For most Penn Charter students, doing this online learning – absent their peers and isolated in their homes – has been a poor substitute for what normally happens in our clock-towered building.

Again, I commend your scholar.

Stalwart, PC continues. Virus or no, our cycle continues. Early next week, I am welcoming new Upper School students and their families to Penn Charter; these members of 2024 will formally join our community in the fall. And later in the week, we will virtually graduate the Class of 2020. On Saturday, June 6 at 10:30 a.m., we will share a video of the service with the community, and then both Saturday and Sunday afternoon, families will drive through campus to take cap and gown pictures under the Treaty Elm on the front circle. And pick up individual diplomas. (Details sent separately to seniors and their families.)
You are invited to watch our prerecorded Commencement 2020 celebration on June 6 at 10:30 a.m. Visit penncharter.com on June 6 for links to watch on YouTube and Facebook.

I will write again soon with details about summer plans and more. Meanwhile, I am holding you and your family in the light.

Warmly,
Erin Hughes

Prize Assembly & Cum Laude Assembly
Wednesday night, we hosted ceremonies for PC prize winners and Cum Laude Society inductees and their families.
At the end of the ceremony, Head of School Darryl J. Ford announced the 2020 student speakers for Commencement, the virtual in June and the Convocation in August (or November). Enjoy the screenshots of his announcement below.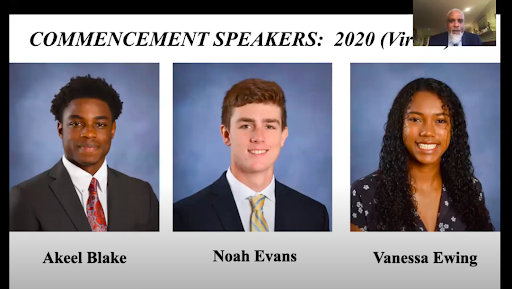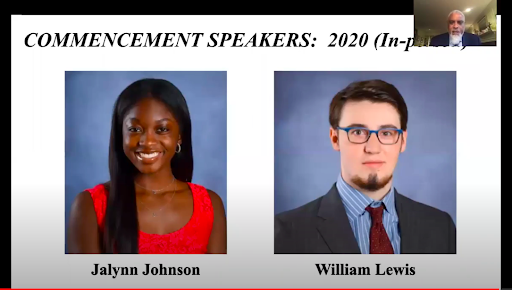 Yearbook Dedication
Compliments of senior Editor-in-Chief Lauren Cubbin, please enjoy the dedication of the 2020 Class Record.